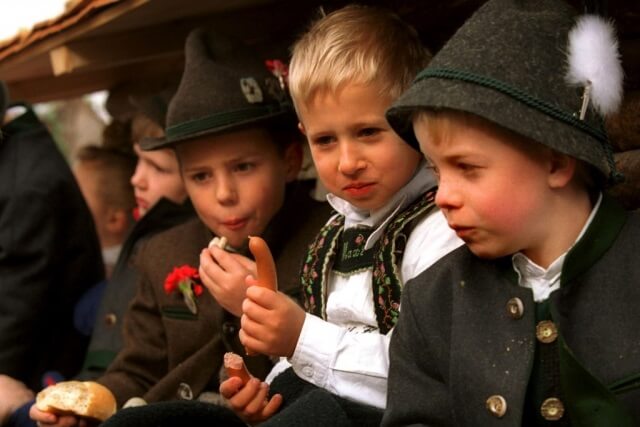 Many visitors come to the Bavarian Alps to see some of Germany's tallest mountains or to tour numerous fairytale castles. What people realize once they arrive is that they are immersed in a rich, inviting history still celebrated today. Last time we began our series of Bavarian Alps blogs with a description of Munich, a charming, cultural city and an ideal stopping point during your Bavarian Alp travels. Today we will discuss this alpine region's distinctively fascinating traditions and culture.
Old towns enclosed in remnants of their historic walls are nestled around the Bavarian Alps, like Bad Tölz, Mindelheim, Memmingen and Nördlingen; the latter is a town on the Romantic Road leading up to the Alps' foothills. Walking around their alleys and amidst their ancient towers, town halls and cathedrals will allow your imagination to experience culture from the 15th century or earlier.
Several majestic buildings host concerts throughout the year. The Royal Palace of Herrenchiemsee and Neuschwanstein Castle's acoustics are magical for the classical performances that occur during the summer or autumn. Organ concerts creating Baroque grandeur are a common occurrence at Ottobeuren Abbey's Basilica on Saturdays. For a more interactive music scene, and a tradition 200 years in the making, you can attend one of the beer gardens sprawled across Bavaria – they offer a chance to eat, drink and interact with locals and tourists and to listen to some fine brass band tunes.
The Bavarian Alps also hosts festivals, deeply rooted in local traditions and culture, almost every month of the year. For example, Fasching (Carnival) begins on the 11th of November and lasts until Faschingsdienstag (Carnivals' Tuesday) the following February. During the last few days of Fasching locals and visitors alike wear masks and march in parades to drive away the cold weather or garb themselves in costumes to slide down hills via Hornschlitten (traditional sledges). The eve or first day of May, towns across Bavaria try to outdo each other by erecting the most ornately decorated or highest Maypole. Traditionally, some would try to steal their neighbour's poles; today towns usually host a fête centred around the staff painted blue and white or decorated with local crafts. In September, you can witness Viehscheid, when the cows return from their season of grazing and fattening up in the mountains. The cows and farmers wear traditional cloth and towns usually host a party or beer tent coupled with folk music.
Perhaps what you'll notice most about your travels throughout the Bavarian Alps is how the locals have maintained their own, distinct identity separating it from the rest of the country. Homes painted in a rainbow of colours, "Grüβ Gott" greetings as you walk down the street, the diverse and hearty cuisine and a "live and let live" (Liberalitas Bavarica) mentality will allow this pocket of Europe to forever linger in your memory.