Huts in the Dolomites & South Tyrol
A guide to rifugi high up in the Italian Dolomites and South Tyrol mountain huts: how and when they operate, costs and what to expect when you stay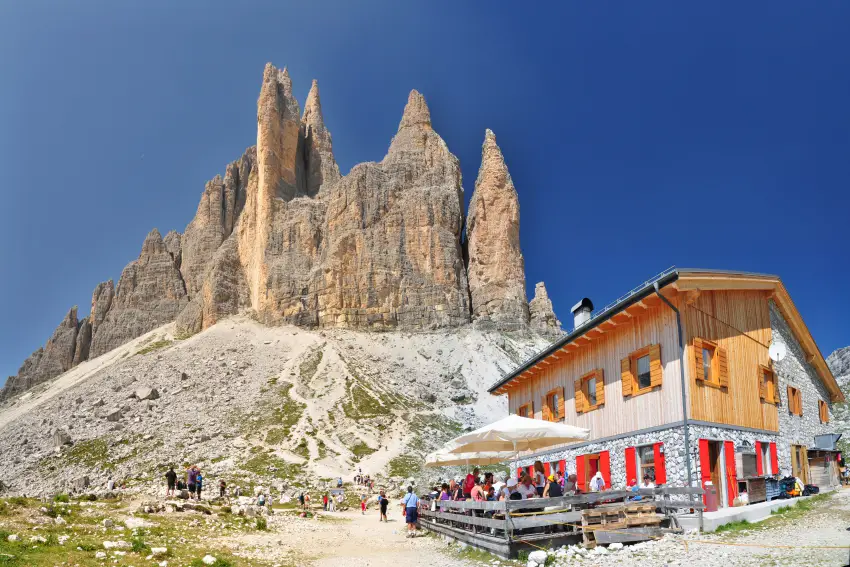 Italy's network of alpine huts, known as Rifugio, (plural is Rifugi) are largely owned by Club Alpino Italiano, Italy's leading mountaineering organisation. Membership of this club will normally entitle you to a discount at the 600 huts which it manages. Many of the most remotely-located huts are unstaffed, and you are simply asked to pay a small donation. The most basic ones (Bivacchi) are completely free of charge.
In South Tyrol, mountain huts are used as a base by walkers, climbers, bikers and skiers.  Ownership is a mixed: some are the property of alpine clubs and others are privately-run. There are 90 mountain huts in the South Tyrol region that provide basic overnight accommodation. A full list is available on the trekking section of the South Tyrol tourism website: http://www.trekking.suedtirol.info/index.php
The Italian Dolomites also have an extensive network of rifugi, which are handily located across the entire region. They range in standard from basic and rustic – with little more than a communal 'mattress room' and cold running water - through to more comfortable establishments with proper beds, private rooms and hot showers (which are more akin to a small hotel). Yet regardless of comfort level, they all offer good shelter for walkers, mountaineers, skiers and anyone who wishes to experience the beauty of the Dolomite Mountains as closely as possible.
Most of the huts in the Dolomites do serve food and what's more, they have a reputation for serving up quality meals which are designed to re-fuel exhausted mountain explorers.
Each rifugio offers different experiences and their own remarkable views. Some are fairly easy to access, while others - such as the famous Rifugio Lagazuoi - can only be reached through a combination of trekking and cable cars. Many guests remark that the stunning panoramic view from the terrace outside of Rifugio Lagazuoi makes them feel as if they are 'sitting on the edge of the world'. Rifugi and huts in the Italian Dolomites will normally be open between 20 June and 20th September, unless extreme weather conditions force a late opening/early closure.