Via Ferrata
Via Ferrata, known as Klettersteig in German speaking countries, is one of the biggest trends in modern Alpine walking and climbing.
If 'just walking' sounds boring and you'd like to indulge in more Alpine adventures, but feel rock climbing is a shade too daring for you, you may want to try a via ferrata (plural vie ferrate; Klettersteig in German). These 'iron paths' originated in the Italian Dolomites during the First World War, when soldiers fitted pitons, ladders, gorge-spanning bridges and cables to rock faces, so that they could move more easily across the precipitous terrain.  After WWI some routes were left to rust away, but many were adopted by climbers for speedier access to more difficult free-climbs.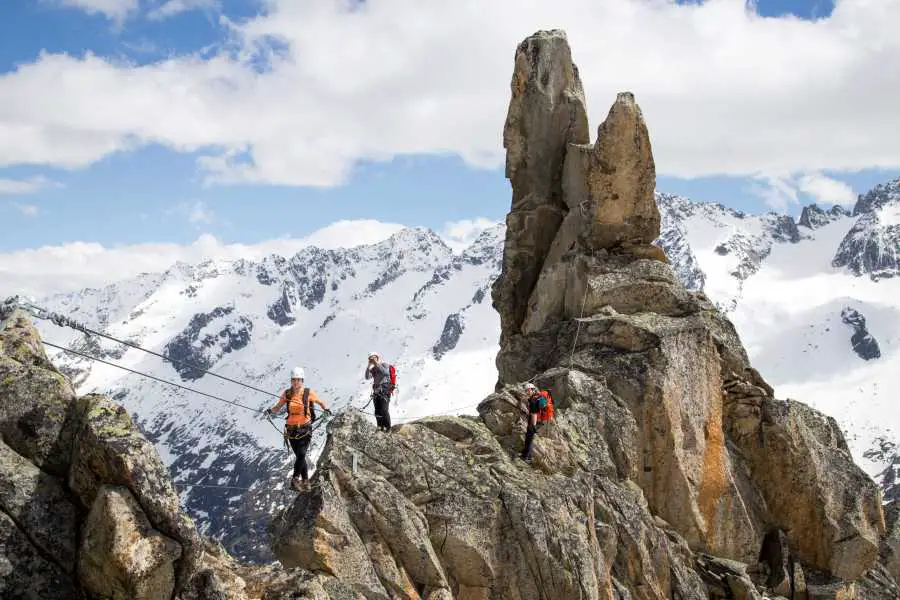 In recent years, many Alpine resorts in Austria, Switzerland and in Germany's Upper Bavaria have created vie ferrate of their own, to allow guests to experience terrain that would otherwise be the preserve of the technically adept rock climber. A via ferrata is a combination between scrambling and rock climbing. The routes are accessible to all those that have a head for heights, balance, coordination, strength - and a fair bit of nerve. Trail signs to starting points are usually excellent and the routes are well waymarked. Vie ferrate vary from routes for children and beginners to highly taxing routes best undertaken with a qualified and experienced mountain guide. They are graded by technical difficulty and the length of time taken to complete the course.
The necessary equipment can often be rented in a local sport shop, and they will also recommend guides that will lend you their services for a small fee. A via ferrata set consists of a helmet and a climbing harness attached to two lengths of ropes fitted with karabiners. You must always be attached to the cable by at least one karabiner, for safety. To climb, you make use of hand- and footholds you encounter, as well as pitons and hoops.
Do not compare, however, a via ferrata with an adventure park. Emergency Exits are rare and it is very difficult, if sometimes downright impossible, to climb back down a via ferrata. The way down after completion of the route is by a normal footpath. Keep in mind that vie ferrate can never be guaranteed to be 100% safe. Sudden weather changes, icy rock, human error and equipment failure are all factors which can lead to serious accidents. Because of this, above all, you need to remain alert and use your judgment.