Alpine Huts in Switzerland
Hut to hut in the Swiss Alps: What to expect from huts in Switzerland, how and when they are run and how to reserve your spot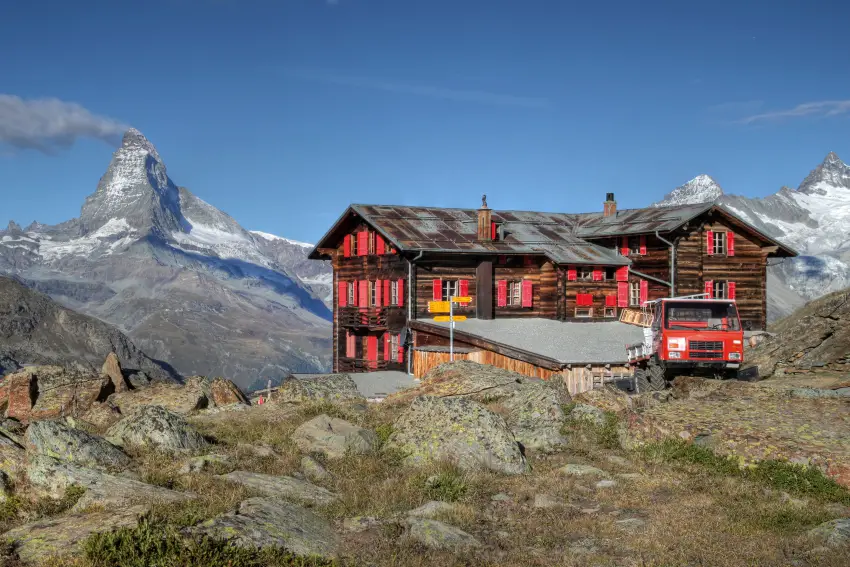 Given its reputation for glamour, it may surprise you to learn that most of Switzerland's alpine huts are a far cry from its plush ski resorts. The Swiss are, in fact, quite a thrifty nation, and they've ensured that hut to hut in the Alps is as affordable as possible for all. Most of the accommodation here is basic – and relatively inexpensive. Many are operated by the Swiss Alpine Club (SAC), while some are privately owned. The Swiss Alpine Club owns 152 mountain huts. SAC huts are usually only accessible by foot, and in the majority of cases, only basic dorm-style accommodation is available. Often they are managed by volunteers - passionate hikers and climbers.
All of them are open year-round, but only around two thirds are staffed continuously. Make sure that you are fully aware of opening hours before you arrive, as these are often subject to change, particularly during adverse weather conditions.
In the majority of Swiss mountain huts, accommodation is in simple, dorm-style rooms which can sleep from around 8 to 20 people. In some of the more accessible ones, you may have the option of taking a small, private room – ideal for couples or families – and you may even have the luxury of a hot shower! (As a general rule, the higher the altitude, the more rustic you get...). Mountain inns, run independently from the hut network and normally found at lower altitudes, can usually offer a higher level of comfort. Find out how inn to inn walking is different to hut to hut walking by visiting the inn to inn walking page on this site.
In any case, reservations are always recommended, and particularly during the peak hut to hut hiking months of July and August. At the time of writing (September 2013), all reservations and cancellations are managed by the hut wardens, but the SAC is developing an online reservation system which will enable guests to book via a website. This system will incorporate all SAC huts. For the British there is also an 'Association of British Members of the Swiss Alpine Club': http://www.abmsac.org.uk/